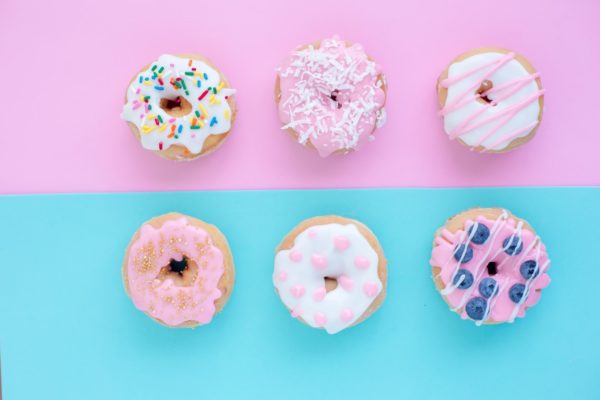 Making changes to your diet can be seem challenging. With so much conflicting information about what, when and how much to eat it's hard to know where to start. Following food rules can seem the straight forward answer.
While following food rules, meal plans, or programmes that help you quit sugar, get healthy and 'lose weight' may seem on the surface an easy way to manage your food intake, the truth is it makes it much more challenging. Here's why:
Why you can't stick to your diet:
When you try a new diet, it generally starts fairly well. On the good days, you feel accomplished and happy that nothing 'bad' has passed your lips. You probably even get a bit of a buzz because you've been sticking to it. But as time goes by it gets harder and things swing the opposite way. You eat something 'bad' and all of a sudden you're consumed with guilt and feel you've ruined everything.
You think you may as well be 'bad' and get it all out of your system, and just start again later. Sometimes this might just be eating a bit more than usual, other times it can a full on binge. Because you're being 'bad' you may as well so you can focus on being good again on Monday. Sound familiar?
This black and white thinking about good foods and bad foods is stressful and rarely does anything to help us have a balanced relationship with food.
The reason why you can't stick to a diet is because a diet has no idea how YOU are feeling, what you feel like eating and how much you need to eat. Because all of this changes day to day. This is the reason why you can't stick to your diet.






In addition to this, reducing your food intake below what your body requires causes hormonal changes that increases appetite. It's our bodies natural way of protecting itself from famine and maintaining our body weight. And while we're certainly not living in days where food is scarce, our bodies do not know the difference between a diet and a famine. Eat too little, drop below your set point weight and your body simply works to counteract it.
The other thing about deprivation and removing foods from your diet is that they can become more appealing. Even thinking about going on a diet (or cutting out foods) can trigger overeating!
Moving to a non-diet way of thinking and being flexible with our thinking about food improves both your physical and mental health.
Here's how these two thought patterns contrast: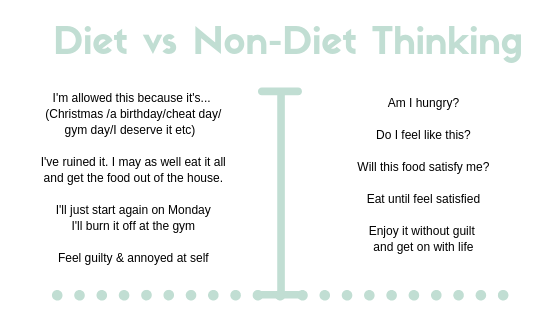 Using your bodies internal cues of hunger and fullness help guide us with how much to eat. Being flexible with thinking about food and allowing yourself to enjoy food no strings attached helps us avoid the guilt and deprivation that can drive binge eating. Combining our inbuilt cues along with flexible thinking and nutrition knowledge helps us become balanced eaters who can enjoy food and eat in a way that works for your own unique body and life. Learning intuitive eating is a process that can help you to do this.

What is it like to be a balanced eater?
A whole new world of food possibilities arrises when you learn to live in that space between black and white. You decide the amount of cookies you eat based on satisfaction, not because you need to get rid of them so you can be 'good again'. You can leave cookies in the cupboard without them being on your mind all the time. You can choose to say no to the chocolate because you just don't feel like it, not because you are 'trying to be good'.
Finding the middle ground means letting go of diet thinking but it isn't as simple as just letting go of rules and restrictions. It's a process. In order to find balance, firstly we must relearn how we think about food and our bodies. We must stop trying to control our weight and work towards appreciation of our body. We must re-learn how to respond to our body cues of hunger, fullness and satisfaction and make peace with food.
But once you find that middle ground – the grey area – you're free from the exhausting mind games that can come from being on and off diets, feeling bad about your eating and struggling with balance.
When you learn to embrace all foods without fear and with flexibility, life is happier, less stressful AND healthier!
Keen to discover more? You may find these articles useful: