Homemade muesli bars are one of my favourite things to make for workday snacks. They are so simple to make and you can be pretty flexible with the base ingredients to substitute nuts and seeds etc. I have used tahini in place of peanut butter and butter in place of the coconut oil. Both times they turned out well and had a different taste which helps keep it interesting. These homemade muesli bars are also yummy with a drizzle (or coating) of chocolate on them. Because let's face it – chocolate always takes things to the next level of deliciousness!
To create a nourishing and delicious homemade muesli bar recipe, these home made muesli bars contain the following ingredients for the base:
Linseed (flaxseed) – a good source of plant based essential omega 3 fats, source of fibre.
Pumpkin seeds – a source of zinc plus other nutrients
Sesame seeds – high in maganese and copper, plus a source of calcium, magnesium, iron, phosphorus, vitamin B1, zinc and dietary fibre
Almonds – high in heart healthy monounsaturated fat, source of vitamin E, magnesium
Oats – a source of fibre and contain vitamin B1 and B5, folate, zinc, iron and magnesium
These are best kept in the fridge as in hot weather they can go a wee bit soft.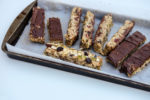 Homemade muesli bars
Homemade muesli bars are simple to make and you can even experiment with different nuts and seeds to create something that suits your tastes. Make a double batch and keep half in the freezer for those times when you've got nothing at home but want a tasty, nourishing snack.
Refrigeration time
45
minutes
Ingredients
1/4

cup

linseeds (flaxseeds)

1/4

cup

cup pumpkin seeds

1/4

cup

sesame seeds

1/4

cup

almonds

1

cup

rolled oats

1/3

cup

cranberries

1

teaspoon

cinnamon

1/3

cup

peanut butter

1/4

cup

honey

1/4

cup

melted coconut oil

or substitute butter

80

grams

dark chocolate
Instructions
Mix the dry ingredients in a bowl and set aside. Place a small pot over a medium heat and add together the honey, peanut butter and oil, heating for around 5 minutes.

Gently stir the mixture as it heats, being careful it doesn't burn.

Pour the honey mixture over the seed and nut muesli mixture and mix well. Spoon into a lined slice tin and press down well with the back of a spoon. If using the chocolate, melt the chocolate then drizzle over the top.

Place in the fridge for around 30-45 minutes, or until set and cut into squares.

Store in an airtight container in the fridge.
If you are after other home made muesli bar ideas, here's some other yummy recipes:
Cranberry and Almond Muesli Bars
Cranberry, Cashew and Chocolate Muesli Bars
SaveSave
SaveSave
SaveSave